About Maa Varahi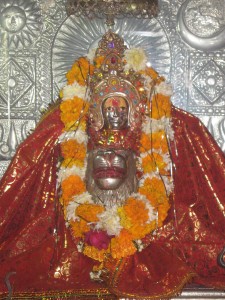 The goddess is an avatar of Shri Vis Bhuja Chamunda. Known as Varahi Mata since she comes to the aid (vahare) of her disciples.
It is said that Maa Varahi comes to the aid of the distressed when one asks for her help. There have been countless cases where the goddess has come to the aid of her devotees in the nick of time. She has always been there for anyone who prays to her from the heart.
In her four hands, the goddess carries a trishul (trident), a talwar and dhal (sword and shield), a Shankh (conch shell) and a chakra.

The swaroop of the goddess changes thrice a day as under:
The first swaroop is Bal swarup,
The second swaroop is Yuva swaroop,
The third swaroop is Mata swaroop.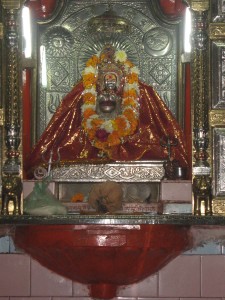 Depending on the swaroop, the goddess is astride a
Simha (Lion),
Hansani (Swan),
Whagni (Tigress)
The mantra of the goddess is:
Aum aim hrim klim chamundaye viche